Obama administration confirms it would veto Palestinian statehood at the U.N.
Source
The State Department confirmed today that, if the Palestinian drive for full recognition at the United Nations reaches the Security Council, the United States will veto it.
The clear statement on U.S. plans for a potential Security Council showdown comes one day after President Barack Obama's nominee for undersecretary of state, Wendy Sherman, got out ahead of the administration and told a Senate committee that the United States was planning to use its veto power.
"The United States is very resolved to a veto threat in the Security Council. What we are very resolved about as well is urging the parties to enter into direct negotiations again," Sherman testified, in remarks first reported by The Cable.
The State Department press corps pressed spokeswoman Victoria Nuland about Sherman's remarks at Thursday's briefing.
"We've seen the press furor around this. Frankly, it was surprising to us. It should not come as a shock to anyone in this room that the U.S. opposes a move in New York by the Palestinians to try to establish a state that can only be achieved through negotiations," said Nuland. "So, yes, if something comes to a vote in the U.N. Security Council, the U.S. will veto."
Nuland also sought to clarify Sherman's comment that the administration does not expect the issue to reach the Security Council in the first place.
"I would imagine that what our nominee was referring to is the fact that our diplomacy continues to make the case to the parties that the best route forward is to come back to the negotiating table and not to pursue action in New York," Nuland said.
Maen Rashid Areikat, the PLO representative to the United States and head of the PLO mission in Washington, refuted suggestions that the Palestinian leadership was thinking of backing down on taking their bid for international recognition. He told The Cable this week that the U.N. Security Council is the most likely venue for a vote on the Palestinian statehood question.
"We hope the United States will reconsider its position and not use its veto power against the Palestinian move at the United Nations," he said. "What happens after a veto? There are so many other options."
One of those options is to seek non-member recognition through the U.N. General Assembly, which would not be subject to a U.S. veto, Areikat said.
Israel's ambassador to the United States, Michael Oren, told The Cable last week that if the Palestinians move forward with their statehood drive, bilateral agreements between the Israelis and the Palestinians could be at risk. The State Department has asked the Israelis not to scuttle those agreements.
Nuland warned that the vote could have negative consequences. "There could be tensions on the ground. There are certainly going to be tensions in New York, which we want to avoid," she said.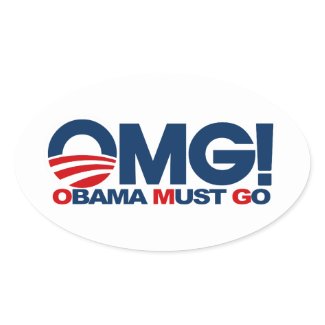 OMG! Obama Must Go
by
GodlikeProduction
Browse other
Omg Stickers