Racist Marc Lamont Hill. This man is a joke! See below a quote from this supposed "activist" on Jeremy Lin.
"Then there's the thorny issue of race. As many players have privately told me, it was difficult to accept that an Asian player under seven feet could dominate an NBA game. As a result, they simply let him play with little resistance, allowing him to temporarily thrive on the "soft bigotry of low expectations."
Linsanity happened because Black Players didn't feel like guarding an Asian? Look at the smug look he is giving Jeremy Lin during a live interview. Jealous Much bro?
I suggest you rewatch Lin's game and how he made Derick Fisher, John Wall and Deron Williams look like total rookies! To quote Deron Williams, "it was hard to keep Lin in front, he was very hard to guard".
Just look at his facial expression. Look of envy, jealousy and out right hatred towards Jeremy Lin.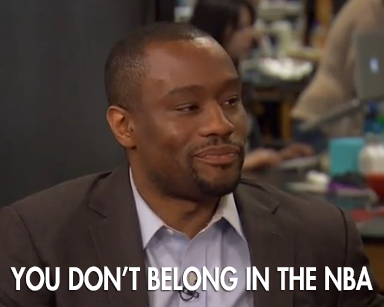 Interestingly enough, not only did Marc Lamont Hill claim that Jeremy Lin is "overrated", this racist idiot also wrote an artcile on "overrated White people". LOL On the list? Elvis, Bill Clinton, Ronald Raegan and Tim Tebow. See the article written by angry white dude
here
.